Camel Safari India
Destination & Sketch Itinerary : Jodhpur - Dholia - Lathi - Delasar - Meghwalon Ki Dhani - Dhaisar - Jandh - Mulana - Basanpir - Chore - Akal - Jaisalmer
Detailed Itinerary of This Tour
Day 01: Jodhpur - Dholia - Lathi - Delasar
Start your day with the early we fast at your hotel in Jodhpur and drive to the village Dholiya ( on Jodhpur - jaisalmer high way ) . The village Dholia is 230 k.m. from Jodhpur and will take you three and half hrs to four hrs driving time by a car. You leave your car here to mount on the camels.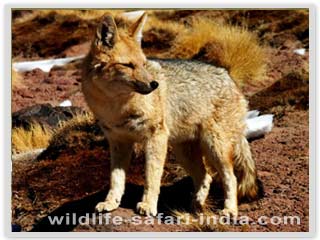 Desert fox, Jodhpur
Narayan Niwas Palace camel safari team will welcome you on your arrival at the village Dholia with tikka and garlanding. A non alcoholic welcome drink will be served you after the welcome. Mount on the camels after a short briefing about the camels , camel safari , demo to mount and dismount on and from the camel . Mount on the camels and ride through the Bishnoi population. Bishnoi is a local tribe and famous for their principles of non violence and protection of animals and trees . They are a purely agriculture based community with a very rich cultural background.Bishnoi women are very courourful , they wear dark red contras color outfits while men use white color cloths to dress themselves. You stop for lunch after a two and half hrs. camel ride ( 12 k.m ) at the village Lathi. Picnic lunch at Lathi and mount again for the second part of the camel safari of the first day. This area is full of wild life like Indian Gazel , Desert fox , blue bull . You can also see a good number of birds in this part. Your dinner and over night stay is arranged at a tented camp near Delasar that is 18 k.m. from Lathi.
Day 02: Delasar - Meghwalon Ki Dhani - Dhaisar (23 k.m)


We fast at the camp and start the first half of the camel safari from Delasar to Meghwalon Ki Dhani. Meghwal is a local cast and are known as the traditional crafts man of the area. They are the weavers , potters and cobblers. Today while ridding the camels we visit the Dhani's ( Cluster of houses outside the village ) of Meghwal people who are the Durry ( a kind of cotton carpet ) and Pattu ( Shawl ) weavers. Although they also have their agriculture land but in the free time they earn a good amount of money by weaving Durries and Pattu . Their art is well known and they are very well connected with the big business hoses to sell their products in the cities like Jodhpur , Jaipur and Delhi. Stop for lunch at Meghwalon Ki Dhani after ridding 10 k.m. distance. Mount on the camels again for the second half of the camel safari of the day to go to your over night camp site which is 13 k.m from Meghwalon ki Dhani. We visit the Dhanies of Rajput people in the second half od the day. Rajput is the ruling class of Rajasthan and had been ruling this area till 1947 . They are brave worriers and traditionally wear saffron color turban . Saffron color is the symbol of bravery. Dinner and over night at the tented camp at Dhaisar.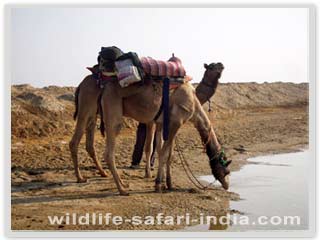 Camel Camp, Dhaisar
Day 03: Dhaisar - Jandh - Mulana (28 k.m)
We/fast at the camp and mount on the camels. Today you ride 13 k.m. in the first half and 15k.m. in the second . Today we enter into the Muslim population.The Muslims of this area are originally from the Sindh province of Pakistan but migrated here years ago to serve the small and big Rajpur royalties in their courts and other places . They are also very good warriors and fought many battles under Rajput rulers.Muslims are very conservative and some time it is very difficult to go and visit their houses but if you are traveling with some one who is known to them can help you in visiting their houses. Muslim women still follow the vale system and mostly stay in side the house if any unknown person is visiting their place. Stop for lunch at Jandh after ridding 13 k.m. Second half starts after one hrs rest at lunch site.15 k.m.ride in second half before you reach at the camp site at Mulana. Over night at tented camp at Mulana.
Day 04: Mulana - Basanpir - Chore (29 k.m)


Start your day with the b/fast at the camp and mount on the camel to ride 14 k.m in the first half . You are still ridding through the Muslim population. Yours picnic lunch is arranged at Basanpir and your dinner and over night stay is at the tented camp near village Chore.
Day 05: Chore - Akal - Jaisalmer (27 k.m)
We fast at the camp and start your day with the final day's camel safari. Ride through the Rajput populationfor a distance of 10 k.m. to reach at your lunch site at village Akal . Second half will be of 17 k.m. camel ride to arrive at your hotel ridding the camels. Picnic lunch at Akal.Your camel safari part is over after you finally arrive at your hotel in Jaisalmer which is booked by you and your travel agent.

You may also like to see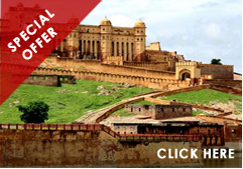 Something enchaning lies in wait for you
Click Here