Manali - Leh
Destination & Sketch Itinerary : Manali - Rohtang - Keylong - Jispa - Baralachala Pass - Sarchu - Tanglangla - Hemis - Leh - Alchi - Lamayuru - Leh - Delhi

Detailed Itinerary of This Tour
Day 01: Manali
Arrive in the evening and check in at Hotel. Overnight at Hotel.

Day 02: Manali - Local sightseeing
Morning half day walk through the pine forests visiting Hadimba Devi temple which is fourtiered with a Pagoda shaped roof and a front doorway carved with figures and symbols. This temple was built in 1553 by King Bahadur Singh and also known as Dhungri temple. Continue walk through the old part of the Manali visiting Manu temple. It is believed the spot where Manu the first father set first, stepped into the earth from the celestial boat after the great deluge in Manu. The view from here is quite picturesque. Return to the hotel for lunch. Afternoon drive by car visiting Vashisht Spring (Hot sulpher spring) named as Vashisht springs. There is a myth that these hot spring spurted out of earth as the surface was penetrated by an arrow from Laxman's bow. The spring water contains sulphur endowed with great healing powers. You can have bath in Turkish sytle Bathrooms which are maintained by the local department. On the way back visit by foot around the Manali market. Dinner and overnight at Hotel.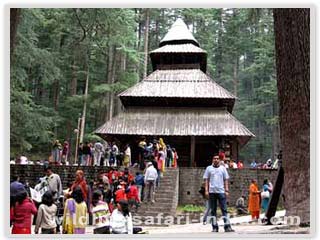 Hadimba devi temple, Manali
Day 03: Manali - Rohtang - Keylong 115 Kms
Leave after breakfast and 55 kms drive will take you to the Rohtang pass which is known as Gateway of Lahaul Spiti valley. We dip immediately into Lahaul valley and finally we reach Khoksar where we stop for Lunch and passport checking. Continue drive along the bank of Spiti river and in the late afternoon we reach Keylong which is head quarter district of the Lahaul and Spiti valley. Check into hotel. In the evening walk around the narrow bazaar of the Keylong and it commands magnificent view of the Khardong monastery. Dinner and overnight at Hotel.

Day 04: Keylong - Jispa - Baralachala Pass - Sarchu 105 Kms
After 25 Kms drive, you will reach Jispa where you will find a new monastery which was recently built by H.H. Dalai lama during the Kalachkara program in 1994. Finally after short drive reach Darcha which is the key point for various trekking routes. Continue drive towards Baralachala pass 4883 Mtrs. Here on the top there is a lake known as Surajtal which commands magnificient view of the snowy mountains. From here it will take another 2 hours drive to reach Sarchu which is the border line between Himachal and Jammu and Kashmir. Tonight it will be the coldest night during the tour at an altitude of 4200 Mtrs. Afternoon free for personal activities. Dinner and overnight at Deluxe bedded Camping (With enough bedding and quilts)

Day 05: Sarchu - Tanglangla - Hemis 205 Kms


Leave after early breakfast and drive through the picturesque mountains and finally reach Pang at the lunch time. Continue drive towards Tanglangla Pass 5350 Mtrs. Which is the second highest motorable road in the world. Finally we reach Upshi where we stop for tea and passport checking. Another one and half hours drive will take us to Hemis. Check in at Guest house. Dinner and overnight at Guest House.
Day 06: Hemis - Leh 45 Kms
Visit the Hemis monastery in the morning. Later on transfer from Hemis to Leh on the way visit Thiksey Palace and Shey Palace. Arrive Leh in the late afternoon. Dinner and overnight at Hotel.

Day 07: Leh - Alchi - Lamayuru - Leh 249 Kms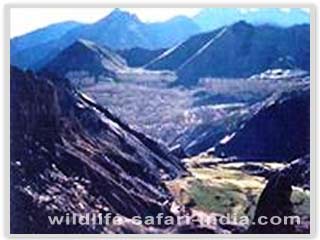 Lamayuru, Ladakh
Leave after breakfast and continue drive towards Alchi monastery which is one of the most famous monastery of the Ladakh region and continue drive towards Lamayuru monastery which is situated on a national highway route to Kargil. Visit the monastery. In the late afternoon drive back to Leh which is another 4 hours drive back to Leh. Dinner and overnight at Hotel.

Day 08: Leh - Local sightseeing
Morning free for personal activities. Afternoon half day tour of Stok Palace and Tibetan refugee camp at Choglamsar. Dinner and overnight at Hotel.

Day 09: Leh - Delhi
Transfer in time to the airport to connect onwards destination flight.

You may also like to see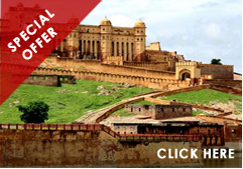 Something enchaning lies in wait for you
Click Here