Splendors Of South India
Destination & Sketch Itinerary : Goa - Badami - Pattadakkal - Aihole - Badami - Hospet - Hampi - Hospet - Hassan - Belur - Halebid - Shravanabelagola - Mysore - Srirangapatnam - Bangalore - Ooty - Coonoor - Ooty - Cochin - Alleppey - Houseboat - Alumkadavu - Kovalam - Trivandrum - Kovalam - Cape - Madurai - Trichy - Tanjore - Darasuram - Gangaikondacholapuram - Chidambaram - Pondicherry - Mahabalipuram - Kanchipuram - Chennai
Detailed Itinerary of This Tour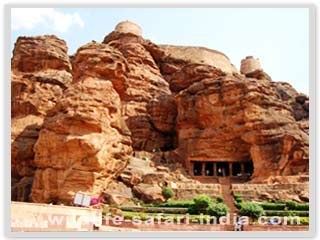 Badami Caves
Day 01: Goa - Badami (330 km / 8 hrs)
After relaxing couple of days in Goan beach. Morning drive to Badami. Evening arrival in Badami. Overnight at hotel.
Day 02: Badami - Pattadakkal - Aihole - Badami
Morning drive to proceed to Pattadakkal (27 km) a world heritages site visiting Virupaksheswara, Mallikarjuna and the Papanatha Temples were built during the 7th and 8th centuries, then to Aihole (37 km) which is famous as the "Cradle of Indian Temple Architecture''. Visit the famous Lad Khan & Durga temples and.The Badami Cave Temples have 4 rock - cut temples - 3 Hindu and one Jain. Of the 3 Hindu temples one is dedicated to Shiva and the other 2 to Vishnu.Overnight at hotel.
Day 03: Badami - Hospet (170 km / 4 hrs)
Morning proceed to Hospet.Rest of the day free. Overnight at hotel
Day 04: Hospet - Hampi - Hospet
Full day sightseeing of Hampi visiting the famous ruins of the Vijayanagara Empire covering King's Balance, Queen's Bath, Lotus Mahal, Vithala Temple with its musical pillars and Stone Chariot, the Virupaksha Temple, Pushkarini Tank & Ugra Narasimha. Overnight at hotel

Day 05: Hospet - Hassan (350 km / 8 hrs)
Morning drive to Hassan. Rest of the day free. Overnight at hotel.
Day 06: Hassan - Belur - Halebid - Shravanabelagola - Mysore
Morning excursion to Belur and Halebid visiting the finest specimens of Hoysala architecture such as the Chennakeshava Temple and the Hoysaleshwara Temple. Evening drive to Mysore (125 km / 3 hrs) enroute visiting Shravanabelagola - this is one of the most important Jain pilgrim centres. Here is the 17 meters high monolith statue of Lord Bahubali built in 981 AD and is one of the world's tallest monolith statue. Overnight at hotel.
Day 07: Mysore
Morning sightseeing of Mysore - is a city of palaces, gardens, markets and shops selling silk and sandal wood. Sightseeing covers visit to Maharaja's Palace, Museum, Giant Nandi Bull, Chamundi Hills and Devaraja Market - one of India's most colourful fruit and vegetable market. Evening free for shopping. Overnight at hotel.
Day 08: Mysore - Srirangapatnam - Bangalore (150 km / 3.5 hrs)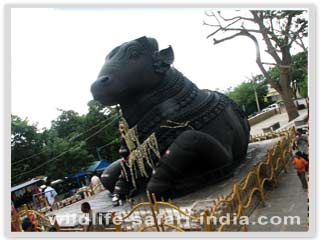 Nandi Bull Temple, Bangalore
Morning drive to Mysore enroute visiting Srirangapatnam stands the ruins of Hyder Ali and Tippu Sultan's capital from which they ruled much of South India during the 18th centuary. PM : Half day S/S of Bangalore covering Cubbon Park which was laid out in 1864, Lal Bagh Botanical garden, Bull Temple one of Bangalore's oldest temples which contains a huge monolith statue of Nandi bull, Tippu Sultan's summer Palace and drive past Vidhan Soudha which housed the Secretariat and the State Legislature and M.G.Road - commercial hub of Bangalore. Overnight at hotel.
Day 9: Bangalore - Ooty (320 Km / 7 - 8 Hrs)
Drive to Ooty. Rest of the day at leisure.Overnight at hotel.
Day 10: Ooty - Coonoor - Ooty
Morning Toy train ride from Ooty to Coonoor through the picturesque Nilgiri hills followed by sightseeing of Coonoor covering Sims Park & Dolphin's Nose. Then return to Ooty.PM : Sightseeing of Ooty covering Botanical garden, Lake & Doddabetta Peak. Overnight at hotel .
Day 11: Ooty - Cochin (300 km / 7 Hrs)
Morning drive to Cochin. Rest of the day free. Overnight at hotel.

Day 12: Cochin
Morning sight-seeing of Cochin covering St Francis Church, Mattanchery Palace, Jew town and its Synagogue and the traditional Chinese fishing nets. Afternoon Free. Evening witness Kathakali dance drama of Kerala. Overnight at hotel.
Day 13: Cochin - Alleppey - House Boat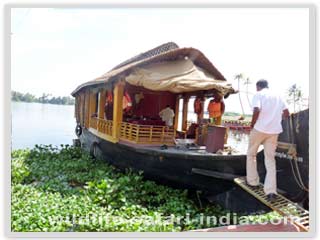 House Boat, Cochin
Morning transfer to Alleppey to board an ethnic 'Kettuvallam' - the cargo boat of yester years. Meticulously furnished, replete with a luxurious bedroom and bathroom. Complete with a cook and a boatman. Houseboat cruise in the direction of Alumkadavu (near Kollam) through the picturesque backwaters of Kerala. You are likely to see a cross section of village life along the picturesque backwaters like toddy tapping, coir making, fishing with Chinese nets etc. At night the boat will be moored in the canal or lake. Overnight House Boat.
Day 14: Alumkadavu - Kovalam (100 km / 3 hrs)
Morning arrive Alumkadavu and transfer to Kovalam in a beach resort. Overnight.
Day 15: Kovalam - Trivandrum - Kovalam
Morning sight-seeing of Trivandrum. Evening relax on the beach. Overnight at hotel
Day 16: Kovalam - Cape (100 Km / 3 hrs)
Morning excursion to Kanyakumari - also called Cape Comorin, the southern most end of the Indian sub continent where three seas - the Indian ocean, the Arabian sea and the Bay of Bengal meet and a holy place for Hindus. On the way visit the Padmanabhapuram Palace - a masterpiece in wood in a typical Kerala style.Further on to Suchindram temple - another masterpiece in granite - in south Indian Gopuram style temple. Further drive to Kanyakumari reach there by afternoon.

Evening take a boat ride to the Vivekananda Rock temple where the great Hindu philosopher had spend a lot of time in meditation. Return to the main land and visit the Gandhi memorial and Devi Kanyakumari temple. After a spectacular sunset which will remain in your memory for a long time return to your hotel in Kovalam. Overnight at hotel.
Day 17: Cape - Madurai (225 km / 5 hrs)
Morning drive to Madurai. Evening visit Meenakshi temple for pooja ceremonie. Overnight at hotel.
Day 18: Madurai - Trichy - Tanjore (225 km / 6.5 hrs)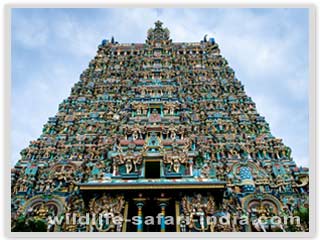 Meenakshi temple, Madurai
Morning sight-seeing of Alagar Coil, Teppakkulam & Naikers Palace. Evening drive Tanjore visiting Trichy - Rock Fort temple & Ranganathaswamy temple. Rest of the day free. Overnight at hotel.
Day 19: Tanjore - Darasuram - Gangaikondacholapuram - Chidambaram - Pondicherry (200 km / 5 hrs)
Morning sight-seeing of Brihadeswara temple and Palace. Further drive to Pondicherry enroute visting Darasuram, Gangaikondacholapuram and Chidambaram - Natarja temple. Overnight at hotel.
Day 20: Pondicherry - Mahabalipuram (160 km / 4 hrs)
Morning sight-seeing of Pondicherry covering Eglise de Sacre church, Sri Aurobindo Ashram & Auroville. Evening drive to Mahabalipuram. Rest of the day free. Overnight.
Day 21: Mahabalipuram
Morning sight-seeing of Mahabalipuram famous for its cave temples - Arjuna's Penance, Krishna temple, Mandapams & Mahishasuramardhini Cave. Evening relax on the beach. Overnight at hotel.
Day 22: Mahabalipuram - Kanchipuram - Chennai
Morning drive to Chennai via visit of Kanchipuram (65 km / 2 hrs) city known for its temples. Most popular is Ekambareswara temple, Kailasanath temple and Sri Kamakshi Amman temple. Further drive to Chennai. Rest of the day free. Overnight at hotel.
Day 23: Chennai
Morning sight-seeing of Chennai covering Fort St.Geroge, Fort Museum, Kapaleeswar temple, St Thomas Cathredal and drive past Marina beach (second longest beach in the world) Check out at 12 noon. Evening transfer and flight to onward destination.
You may also like to see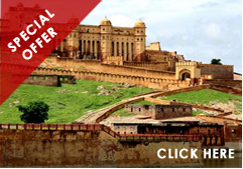 Something enchaning lies in wait for you
Click Here