Sunder Ban Camp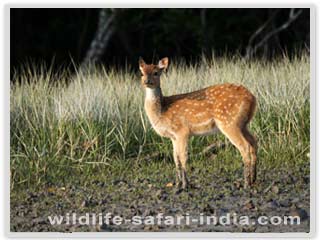 Deer, Sunderban Camp
Bali Island, Bidya Forest Range
Accommodation:
03 ethnic cottages(dbl/triple occupancy)
01 deluxe boat having 08 sleeper berths and 02 western toilets
01 normal boat having 04 clean sleeper bunks and 01 western toilet
Location:
A rural style lodge with a beautiful natural setting at the backdrop,overviewing the Sajnekhali Wildlife Sanctuary,on the bank of river Hogol.
Sunderban Tour
Ideal Activity for 2 Night / 3 Day program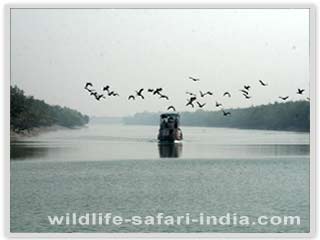 Bird Group, Sunderban
Day 1: Morning transfer to Sonakhali by car (2 hours drive through beautiful countrysides, fishermens' villages and interesting rural bazaar). Arrive and transfer to our motorised boat. 2.5 hours cruise to Bali. Check in at Sunderbans Jungle Camp. After lunch guided jungle cruise to Sudhanyakhali watch tower through creeks and canals. Back to camp.Evening infotainment over tea and snacks. Dinner and overnight halt.
Day 2: After breakfast fullday guided cruise, birding etc to Netidhobani and Dobanki watch tower or Burir Dabri watch tower. Back to camp. Evening local cultural show by the villagers. Dinner and overnight halt.
Day 3: Morning guided village tour followed by adventure cruise/creek cruise by manually oared boat. Early lunch and cruise back to Sonakhali.Transfer to Kolkata by car.
All services and activities are provided by the local villagers and local trained guides respectively.

Food:
Clean,hygienic veg and non veg food is prepared by our trained chef and is served on buffet style. Even though much variety is not possible owing to the remoteness of the destination, yet best possible food is being served. There is unlimited tea/coffee. Desserts and special local items like fish and crabs is also served.
Activities:
Tiger sighting can never be guaranteed in Sunderbans as the type of forest is different and there is hardly any scope to explore the jungle on foot. However, our expert field guide and Sarengs, having highest professional knowledge, dexterity and long experiences surely try their best to showcase this world heritage site and help you have host of interesting activities and unique experiences. Our field guides also help you identify some exotic birds and rare mangroves.
Why Sunderbans?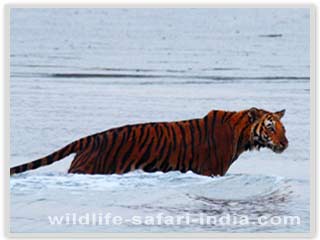 Tiger, Sunderban
Sunderbans, world's largest delta covered by mangrove forest and vast saline mudflats, is situated in the lower end of the Ganjetic West Bengal. A land of some 55 tiny islands, crisscrossed by innumerable tributaries of Ganga, that was once infested by Arakanese and Portuguese pirates is now the abode of varied flora and fauna population. The only mangrove tiger land of India where 70% is under saline water makes the life of commoners, mostly honey-catchers, prawn-catchers and fishermen very difficult. This mangrove forest has about 64 plant species which alone covers 90% of Indian mangrove varieties and 60% of the total mangrove forest area of the country.
The amphibian tiger population, which is estimated to be over 260 in number here, has distinct behavioral pattern which makes Sunderbans special from the other tiger reserves of the country.The core area of Sunderbans is also conserved as 'World Heritage Site' as designated by IUCN in the year of 1989.The Royal Bengal Tiger is the king of this forest and it occupies the pinnacle of both terrestrial and aquatic web.There are also Cheetal, Wild Boar, Rhesus Macaque, Fishing Cat etc. The creeks of Sunderbans form the home of world's largest Estuarine Crocodile, the only surviving member of Jurrasic time. The aquatic fauna includes Gangetic Dolphin,River Terrapin (Batagur Baska), Olive Ridley Turtle, Green Turtle, Hawks' Turtle, different species of Crabs, Prawns, Lobsters and Fishes.

To add colours and melody there are 200 odd birds species. Some are Red Junglefowl, Lesser Whistling-duck, Northern Shoveler, Northern Pintail, Common Pochard, Streak-throated Woodpecker, Coppersmith Barbet, Brown-winged Kingfisher, Stork-billed Kingfisher, Black-capped Kingfisher, Collared Kingfisher, Pied Kingfisher, Green Bee-eater, Asian Koel, Rose-ringed Parakeet, Orange-breasted Green Pigeon, Whimbrel, Eurasian Curlew, Common Redshank, Terek Sandpiper, Common Sandpiper, Grey-headed Lapwing, Whiskered Tern, Osprey, Brahminy Kite, White-bellied Fishing Eagle, Goliath Heron, Purple Heron etc. The lost lot who did not get a chance to survive are Javan Rhino, Wild Buffalo, Swamp Deer, Barking Deer and many other important plant and animal species.
People of Sunderbans worship Tiger as "Lord of South", the richly ornamented 'Dakshin Roy' who is said to own all the wealth of the Sunderbans. 'Dakshin Roy' is believed to share his land and wealth with 'Bonobibi'. Hindus and Muslims gather at common shrine to worship both the deities. Sunderbans is open round the year for visitors.
You may also like to see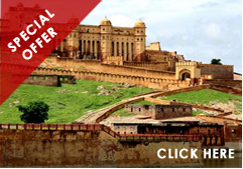 Something enchaning lies in wait for you
Click Here