Ranthambhore National Park
Ranthambhore National Park Fact File
Location of Ranthambhore
:
Near Sawai Madhopur, Rajasthan
Nearest Access to Ranthambhor
:
Sawai Madhopur
Coverage area of Ranthambhore
:
392-sq-kms
Climate of Ranthambhore
:
Major Wildlife Attraction inRanthambhore
:
Tiger, Leopard, South Bear, Crocodile, Sambhar
Best Time Visit of Ranthambhore
:
October 1st to June 30

About to Ranthambhore National Park
The park, set against the backdrop of the historic 1000-year-old Ranthambhore Fort, lies in the area where the ancient ranges of the Vindhyas' flat-topped hills merge with the sharp ridges of the Aravalis.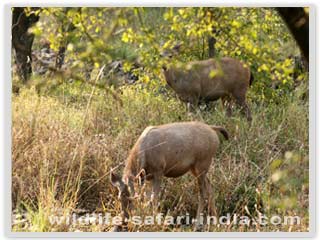 Deer, Ranthambhore
The park's uniqueness lies in its man-made lakes and ancient reservoirs, which have merged into the natural system as vital sources of water.
Ranthambhore also has a large populaton of panthers, the second largest predators of the forest. Marsh Crocodiles abound in the lakes and Gharial can be spotted close by in the Chambal River, which also harbors the Gangetic Dolphin.
An open jeep safari also affords a glimpse of the spectacular ruins of mosques, tombs, watchtowers and palaces scattered within the park.
Undoubtedly the best place to observe tigers in the wild, the park also has a host of other predators such as the Caracal, Leopard, Sloth Bear and Jungle Cat.

The prey species include Sambar, Chital, Nilgai, Chinkara and the Wild Boar. The protected Blackbuck can be seen in fields close to the reserve. Scavengers like Striped Hyena, Jackal, Mongoose and the Common Fox are also seen here. The Common Langur surely lives up to its name.
Of the 300 species of birds reported at Ranthambhore, the prominent ones are Variable Wheatear, Tickell's Blue Flycatcher, Rufus-tailed Shrike, Sirkeer Malkhoa, Painted Spurfowl, Blue-breasted Quail and Rain Quail.
Raptors include Lesser Spotted Eagle, Bonelli's Eagle, Changeable Hawk Eagle and owls such as the Brown Fish Owl and Collared Scops Owl. In the areas adjoining the park, one can spot the Greater Flamingo, Demoiselle Crane, Kentish Plover, Yellow Wattled Lapwing, Brown-headed Gull, Ruff and the Indian Courser.
The vegetation is typically dry deciduous forest and moderate to scanty undergrowth in flat valleys. The reserve has a rich faunal assemblage and the scanty undergrowth allows opportunities good game viewing.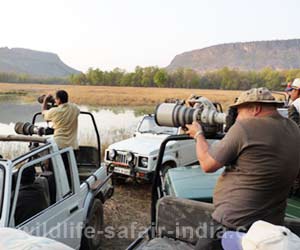 You may also like to see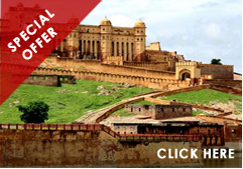 Something enchaning lies in wait for you
Click Here