Wildlife Heritage & Tea Tours
Destination & Sketch Itinerary : Guwahati - Tezpur - Agnigarh - Bomdila - Tawang - Dirang - Nameri - Kaziranga - Panbari Reserve forest - Jorhat - Nematighat - Shivsagar - Dibrugarh - Delhi
Detailed Itinerary of This Tour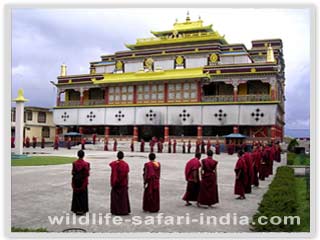 Buddhist Monasteries, Guwahati
Day 01: Guwahati - Tezpur
Arrive at Guwahati, Tezpur.O/N at Tezpur
Day 02: Guwahati - Tezpur - Agnigarh - Bomdila
Visit Agnigarh and drive to Bomdila. Visit upper and lower buddhist monasteries,Craft centre.O/N at Bomdila
Day 03: Bomdila - Tawang
Transfer to Tawang.En-route visit Jaswantgarh war memorial and Madhuri falls,Sella Pass(13760 ft),Sella Lake.O/N at Tawang.
Day 04: Tawang
Visit the Historic Tawang Gompa and Anie Gompa(nunnery),Craft Centre and Craft Emporium.O/N at Tawang.
Day 05: Tawang
Visit War Memorial,Birth place of His Holiness the 6th Dalai Lama,Sehru Monpa village.O/N at Tawang.

Day 06: Tawang - Dirang
Drive to Dirang.Visit Kalchakra monastery and Sangti valley which is a sanctuary of Tibetian Blacked Necked Cranes and also having a sheep-breeding farm.O/N at Dirang.
Day 07: Dirang - Nameri
Drive to Nameri Tiger Reserve.O/N at Nameri.
Day 08: Nameri
Morning birding and jungle walk followed by a 20kms down stream boat trip on Jia Bhoroli river.O/N at Nameri.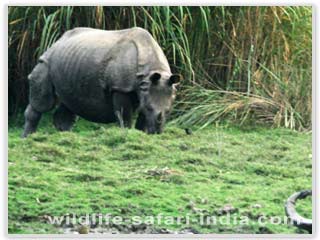 Rhinos, Kaziranga
Day 09: Nameri - Kaziranga
Drive to Kaziranga.O/N at Kaziranga National Park.
Day 10: Kaziranga
Birding trips,Jeep safaris in Eastern and Central range.O/N at Kaziranga
Day 11: Kaziranga
Morning Elephant safari and Assamese village tour.Afternoon jeep safari to Western range.O/N at Kaziranga.
Day 12: Kaziranga- Panbari Reserve forest - Jorhat
Morning birding trip to Panbari Reserve forest and tea garden.Proceed to Jorhat.O/N at Jorhat.
Day 13: Jorhat - Nematighat - Shivsagar
Transfer to Nematighat and board ferry for Majuli-the world's largest river island which is a UNESCO-designated World Heritage Site.Visit the historic Vaisnovite satras(monasteries)established by Assam's religio-cultural guru Shri.Sankardeva.Ferry back to Nematighat and transfer to Shivsagar.O/N at Shivsagar.

s
Day 14: Shivsagar
Visit the historic(Shivsagar was the administrative centre of the Ahom dynasty who ruled Assam for 600 years)Rang Ghar(believed to be the largest amphitheatre in Asia),Talatal Ghar(fort),Kareng Ghar, Charaideo(originally the palace,now archaeological museum), Rudrasagar tank and Shivadol(the tallest Shiva temple in India).O/N at Shivsagar.
Day 15: Shivsagar - Dibrugarh
Drive to Dibrugarh.O/N at Dibrugarh.
Day 16: Dibrugarh
Morning Tea Appreciation tour guided by a tea expert (Dibrugarh is the largest tea producing centre in Assam).Post-breakfast Tai Phake tribal village tour.O/N at Dibrugarh.
Day 17: Dibrugarh
Fullday guided birding tour to Dibru Saikhowa National Park(boat trip+jungle walk).Evening Bihu cultural dance.O/N at Dibrugarh.
Day 18: Dibrugarh - Delhi
Farewell and fly out from Dibrugarh for Delhi.
You may also like to see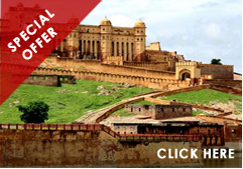 Something enchaning lies in wait for you
Click Here