Lions, Leopards & Elephant Safaris
Destination & Sketch Itinerary : Delhi - Jodhpur - Bera - Zinabad - Gir - Rajkot - Bombay - Bangalore - Mysor - Nagarhole - Bangalore - Cochin - Periyar - Cochin - Bombay - Delhi
An Insight into the Trip
This itinerary combines thee major large mammals Leopards,lions and Elephants. Apart form offering large variety to Geographical region from Desert lands of Jodhpur, and Dry stunted forest of Gir and arid flat of Kerala. This also combines with cultural diversity of cross se land of Runn of Kutch , the teak forest of South and lush rain forestction of India from Rajasthan,Gujarat and South India. This tour offers travel by 4 x 4 Vehicles and Boats. The accommodation are varied and comfortable including live in a Palace Hotel in Jodhpur.
Detailed Itinerary of This Tour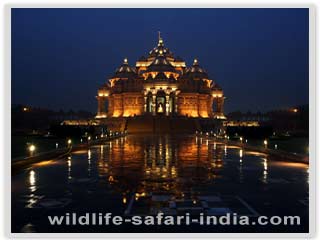 Akshardham, Delhi
Day 01: Delhi
Late evening arrive Delhi. Meeting and assistance on arrival and transfer to Hotel for overnight.
Day 02: Delhi
Morning city tour of Delhi. Full day City tour of Old and new Delhi. Our most unique visit of this great capital begins with New Delhi, passing through elegant President House, India Gate then Rickshaw ride through old Delhi 's colorful shopping bazaars .Starting at the imposing Jama Majzid , India's commercial heart of the city, passing a multitude a brightly bedecked stalls where Indians buy everything from wedding jewels to spices, silk brocade to sweets , This is a true insider's look at real India.
In the afternoon we explore the city's other prime highlights; the Tomb of Mughal emperor Humayun, believed to have served as the model for Taj Mahal; the 234-ft-high, 12th -C. Qutub Minar and andhi's Memorial. Meals and brief overnight at the Hotel.
Day 03: Delhi - Jodhpur
Early morning fly to Jodhpur. ( 0555/0750) on arrival Transfer to the hotel. Afternoon half day of sightseeing in Jodhpur with a local guide. Points of interest include Umaid Bahwan Palace Museum, Mahrangarh Fort and Jaswant Thada and explore downtown Jodhpur on your own.Overnight at the hotel.

Day 04: Jodhpur
A local guide will take you on an excursion to Bishoni Villages offers a chance to see the lifestyle of this region. Additionally, you will look for Blackbuck Antelope and Chinkara (Indian Gazelle). Today you have the rare opportunity to see and participate in a special Opium ceremony. Afternoon drive to Nana-Bera.On arrival Transfer to Leopards Lair. An interesting farm house of the erstwhile ruler of the region. Evening excursion to neighboring hills in search of Leopards. Also seen are Hyenas , rare wolf and Jackals. A remarkable place to see the coexistence with man. Dinner and overnight at the Leopards Lair.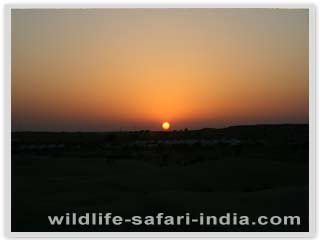 Sunset and Spotlights, Bera
Day 05: Bera
Morning excursion to Zhawar Sagar Lake to see some birds, Crocodiles. Also explore villages and see the country lifestyle. Evening excursion once again to see the Leopard. These excursions are done at Sunset and spotlights are used to see the various animals.
Day 06: Bera / Zinabad
Morning Drive to Zinabad situated in the Little Runn of Kutch on the outskirts of Wild Ass Sanctuary. It is a stunning area, which is completely flat country, hard ground and almost no vegetation. Horizon is often merged with mirage to disillusion you as vast bodies of water in the desert land. It is the best place to see the most rare and endangered Khur ( Indian Wild Ass) . Surprisingly one can approach them quite close on foot. This place also is famous for thousands of common and Domicile cranes, flamingoes, and large number of desert birds. On arrival we check in at Desert Cruiser Camp - an interesting mud huts in a desert Setting. The place is owned and managed by the Erstwhile rulers of are region who personally look after the comfort of the guest.
Day 07: Zinabad
Morning and evening excursions to the Little runn of Kutch to see its varied wildlife, landscape, salt panning and the culture of the people. Meals and overnight at the Camp.

Day 08: Zinabad / Gir
Morning optional excursion and later leave for Gir. On arrival transfer to Gir Safari Lodge. Evening excursions to Gir National Park the Last hold of the Asian Lion. Also seen are Antelopes like Nialgai and chinkara ( Indian Gazelle) and unique four horned antelope, Deer like the Sambar and chital, wild boar, Leopard and crocodiles. Peacocks , paradise fly catcher, King fishers, Indian roller and tree pie are some of the colorful birds. Dinner and overnight at the Lodge.
Day 09: Gir
Morning and evening Jungle excursions to the Gir National Park. Meals and overnight at the Lodge.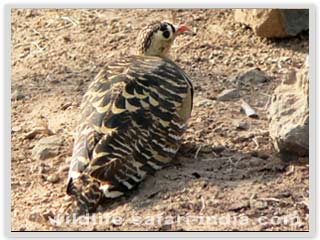 Sasan Gir Painted Sandgrouse, Gir
Day 10: Gir
Morning and evening Jungle excursions to the Gir National Park. Meals and overnight at the Lodge.
Day 11: Gir / Rajkot/Bombay/Bangalore
Morning drive to Rajkot for flight to Bombay ( Mumbai) 1305/1500 on arrival connect flight to Bangalore 1730/1900. On arrival Transfer to Hotel.
Day 12: Bangalore / Mysore/ Nagarhole
Morning drive to Mysore ( three hours) on arrival visit the impressive Mysore Palace which is one of the largest Palace in the country with art Treasures, stained glass, wall paintings, ivory inlaid doors all remarkable. Later drive to Nagarhole ( two hours). On arrival transfer to Kabani River Lodge - it is an old hunting lodge of the Maharaja of Mysore on the banks of Kabani River. Dinner and overnight at the Lodge.
Day 13: Nagarhole
Morning and evening excursions to Nagarhole National Park. Now know as Rajiv Gandhi National Park is rich teak forest excellent area to see herds of Wild elephants, Gaur ( Indian Bison) , Wild dogs. Journey is made by 4x4 vehicles, Corcal (round country boats) and motor boats to see the animals on the shore of lake formed by a dam on the river. It is not uncommon to see herds of 20 - 30 wild elephants and see some 10- 15 herds on the lake at one time. Other animals also seen are Sambar and Chital Deer, flying squirrels, sloth bear, monkeys- Bonnet Macaque and gray Languor. The Park is rich in Bird life with pheasants, jungle fowls, hill mynas, Green Pigeons, Paradise fly catchers, etc. Meals and overnight at Lodge.
Day 14: Nagarhole
Morning and evening Jungle excursions. Meals and overnight at the Lodge.

Day 15: Nagarhole/ Bangalore
Morning jungle excursions. Later drive to Bangalore (5 hours drive) . On arrival. Transfer to Hotel. Evening a brief tour of Bangalore. Dinner and overnight atthe Hotel.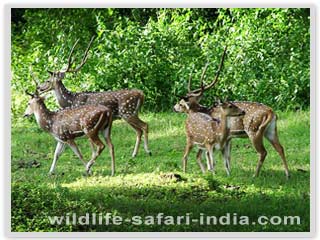 Nagarhole National Park
Day 16: Bangalore / Cochin/Periyar
Morning transfer to airport for flight to Cochin 1010/1105. On arrival drive to Periyar en route stopping for Lunch. On arrival Transfer to the hotel for dinner and overnight.
Day 17: Periyar
Morning excursion to Pariyar by Motor Boats to see the Natures wonderful drama unfold in the rich rain forest. Animals see are herds of Wild elephants, Gaur, Wild Dogs, Otters, Sambar, Wild Boar. Also occasionally seen are Tigers and Leopards. With rich rain forest it has a unique selection of birds. During the day one car also take an opportunity to see the spice gardens. Meals and overnight at the hotel.
Day 18: Periyar/ Cochin/ Bombay (Mumbai) or Delhi.
Morning drive to Cochin airport for flight to Bombay ( Mumbai) 1430/1615 or Delhi 1430/1855 . On arrival transfer to International Airport terminal to connect to onward destination. ( two rooms at Hotel for wash and change).
Day 19: Dep. Bombay or Delhi.

You may also like to see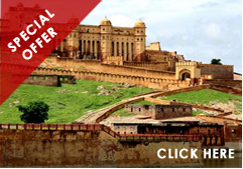 Something enchaning lies in wait for you
Click Here