YOU ARE HERE :
HOME
> ECOTOURISM
Ecotourism
HOME-STAYS: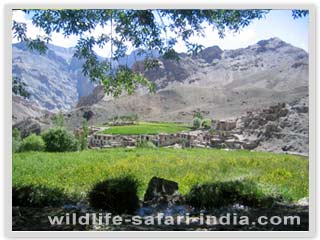 Himalayan wilderness
You stay in local village homes situated in remote Himalayan wilderness close to protected areas and nature reserves. Your hosts are the local inhabitants, with their unobtrusive gracious hospitality and first-hand experiences of how they peacefully co-exist with wildlife in the present environment. This community based tourism initiative gives you a memorable, insightful and cost-effective experience and also generates direct benefits for the local communities, helping them protect their cultural and natural heritage for future generations.


Villages settled close to national parks and reserves suffer unavoidable income losses from livestock depredation and agricultural losses due to wild herbivores and predators. Home-stays are a good way to offset this loss and generate additional income for locals. Through their participation we help create sustainable economic alternatives as opposed to natural resource exploitation and retributive killings.
The local people also serve as guides and take you on wildlife viewing and village walks. You stay in clean comfortable but simple dwellings with solar or candle light. Traditional meals are cooked hygienically by eco-friendly methods, with training imparted by organizations like Mountain Institute, Wildlife Institute of India and Snow Leopard Conservancy.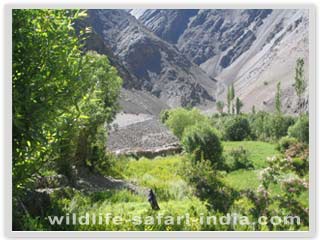 Ladakh
Locations:
Ladakh - In Ladakh's Hemis High Altitude National Park you stay in pastoral villages like Rubak, Kaya, Sku, Shingo, Urutse and Chilling. Hemis is India's best-protected area for Snow Leopards and a stay involves trekking through scenic Himalayan terrain. Your hosts are the local Buddhists and you get to experience their simple way of life.

Sikkim - Nestled between North-East India and Nepal, our home-stays in Dzongu district of Sikkim offer a peek into the area's rich endemic flora and fauna. Hosted by the local Lepcha tribes, you stay in the vicinity of the Kangchendzonga Biosphere Reserve, which offers panoramic views of Mt Kangchendzonga, the third highest peak in the world.

Uttaranchal - Located on the periphery of the Corbett Tiger Reserve, our home-stay at Bhakrakot is surrounded by tropical broadleaf forest and is very rich in game density. You can also stay around Binsar Wildlife Sanctuary as both these areas offer a truly wild experience full of alarm calls, evidence of big cat scat and pugmarks. Your hosts are the extremely warm mountain people, the Kumaonis and Garhwalis.

Coorg - In Coorg, South India's region known for its fragile ecological biodiversity, we offer farm-stays inside rainforests. You stay inside plantations where crops like cardamom, coffee, pepper and vanilla are grown organically under the shade of rainforest trees. You have a choice between premium organic farms like Mojo Rainforest Retreat and Golden Mist Plantations or earthy farm-stays around Brahmagiri Wildlife Sanctuary, Nagarahole National Park and Thadiyendamol, the highest peak in Coorg.
Biodiversity Conservation Trust of India (Bcti)
The Biodiversity Conservation Trust of India OR BCTI was founded in July 2002 as a public charitable Trust and registered under the Indian Trust Act, 1882.
It has following objectives -
To promote the ecological security of society.
To provide for secular management of the country's precious biodiversity.
To strive for protection of the environment.
To assist forest dependent communities to co-exist.
Biodiversity Conservation Trust of India has been actively involved in the Kuno Wildlife Sanctuary of M.P. that is proposed second home for the Asiatic lions since its formation.
At present, Gir National Park and Sanctuary in Gujrat is the Asiatic lion's last resort in the world. A small population of the big cats represents an extremely restricted population distribution; this leaves them vulnerable to variety of extinction threats like epidemic, diseases and other natural calamities.

With a view to prevent the extinction of the Asiaticlions, the Wildlife Institute of India conducted a survey in search of a new home for the big cat. The Kuno wildlife Sanctuary in the northwest Madhya Pradesh was finally selected as the site to establish a second free ranging population of this mega carnivore.

BCTI initiated its work in association with the forest department at and around the Kuno wildlife Sanctuary. BCTI has been involved with the rehabilitation of 24 villages from within the Sanctuary to create a human free environment for the lions.

BCTI Activities
1. Regular interaction with the villagers:
The BCTI has been interacting with the rehabilitated villages as well as surrounding villages of the Sanctuary on the regular basis for information decimation on various issues ranging from agriculture, drinking water and watershed development and management. Special attention are being given on agriculture in which rehabilitated villagers are being informed on the importance of crop selection, weed removal seed selection etc.

2.Technical support:
BCTI has been giving technical support to the different developmental activities initiated by the forest department at the rehabilitation site as well as in the peripheral villages.

3.Wildlife Week:
The lion reintroduction program is in progress with the rehabilitation of all the 24 villages from within the Kuno Wildlife Sanctuary (KWS). The forest department has been doing everything with their small staff base. Therefore, Biodiversity Conservation Trust of India extended its support to the Forest Department for the mass awareness program during the wildlife week. It is being done in the first week of October every year in the surrounding areas keeping students, teachers, village panchayat heads and elders and the government officials as a target group. Slide shows, films, painting and quiz competitions are organized on wildlife conservation theme.

4. Training on Joint Forest management:
Conducted workshop/training program for the frontline staff and Chairperson, Secretary and members of Forest Protection Committee & Village Forest Committee of Kuno wildlife Division and Sheopur Forest Division. This was organized every month for 7-8 days from October 2002 to January2003 in association with the forest department. Aim of the training was to involve villagers into forest conservation, which in turns bring them benefits.
Wildlife Mass Awareness Campaign
A systematic awareness campaign was also initiated to prepare neighborhood communities to live with a mega carnivore like lion- an animal that they never encountered before. This campaign was initiated at various places from March-April 2003 in association with the Sanctuary management and the Biodiversity Conservation Trust of India (BCTI) in which information on the lion reintroduction program has been given. Exclusive slide shows were given at various places during this campaign in which stress has been given to reduce the number of cattle. It was tried to convince the community with the help of slides that a healthy population of big cats in the neighboring forest helps community with the increased water level in their wells as well as increased soil moisture content in their agricultural fields.
5. Preparing Microplan:
BCTI is presently involved in the micoplan preparation of the rehabilitated as well as adjoining villages in association with the forest department.
The microplan would act as a blue print of the village development. It would help the implementing agencies in finding out developmental initiatives at the village level according to the priority fixed by the villagers through micoplans BCTI intended to work in the buffer areas including rehabilitation site on cattle management issues, which would ultimately reduce the grazing pressure on the sanctuary and other eco-development aspect.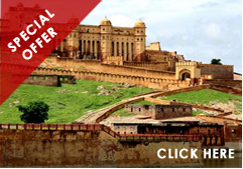 Something enchaning lies in wait for you
Click Here