East Himalayas Birding Tour
Destination & Sketch Itinerary : New Delhi - Kolkata - Sunderban - Dumdum - Bagdogra - Gozoldoba - Gorumara - Lava - Darjeeling - Manebhanjan - Sandakhphu - Gairibans - Tonglu - Megma - Darjeeling - Bagdogra - New Delhi - Kolkata
Detailed Itinerary of This Tour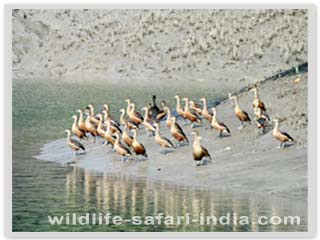 Bird, Sunderban
Day 01: New Delhi - Kolkata - Sunderban
On arrival at New Delhi/Kolkata our Guide will receive you at the airport. We will spend a few hours in Kolkata looking for the Bengal Bushlark, Fulvous Whistling Ducks and Swinhoe's Snipe or the Blunt-winged Warbler and Rusty-rumped Warbler (according to season) then we drive 2-1/2 hrs to Sonakhali and cruise to Sunderban Tiger Reserve. We stay at our own Sunderban Jungle Camp.
Day 02: Sunderban
We spend the day cruising through the creeks looking for the seven species of kingfishers, including the Brown-winged, Collared and Ruddy Kingfisher.

Day 03: Sunderban
The day is spend cruising through the creeks of the Reserve and in the villages looking for Loten's, Purple and Purple-rumped Sunbirds etc.

Day 04: Sunderban - Dumdum - Bagdogra - Gozoldoba - Gorumara
Early Morning we leave for Dumdum and fly to Bagdogra and drive to Gozoldoba Barrage where we will try to locate the Ferruginous Pochard, Eastern Marsh Harrier, Osprey, Great Crested Grebe etc. We stay overnight at Gorumara Jungle Lodge.

Day 05: Gorumara
We will visit the small 80 km2 Gorumara National Park early morning and see the Green Imperial, Pintailed, Wedge-tailed, Pompadour and Yellow-footed Green Pigeons, we will also try to spot the Collared Falconet, Scarlet-backed Flowerpecker, etc. In the afternoon we will visit Chapramari Wildlife Sanctuary and look out for Sultan Tits, Lesser Adjutants etc. We stay overnight Gorumara Jungle Camp.

Day 06:Gorumara - Lava
We bird on the other Birding Trailand look for the Lesser Rachet-tailed, Greater Rachet-tailed and Spangled Drongo. We will also look for the Long-tailed Broadbills, Fairy Bluebird and Large Wood Shrike. Then we drive to Lava. The late afternoon will be spend birding at Lava.

Day 07-09: Lava
We will spend birding at various birding trails around Lava and Neora Valley National Park. Here we will look for the Mountain Hawk and Black Eagle, Khaleej Pheasants, Black-throated Parrotbills, Barwings, Shrike-babblers, Yuhinas, Shortwings, Redstarts, etc.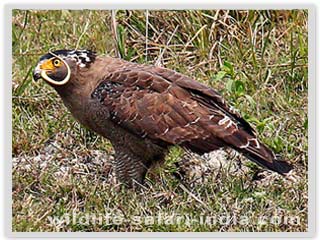 Eagle, Lava-Darjeeling
Day 10: Lava - Darjeeling
We will bird around the Lava in the morning and drive to Darjeeling.

Day 11: Darjeeling
We will spend the day birding at aTiger Hill looking for Spotted Laughingthrush, Broad-billed Warbler, or the enigmatic Gould's Shortwing.

Day 12: Darjeeling - Manebhanjan - Sandakhphu
We will bird watch on the way down to Manebhanjan and drive all the way to Sandakhphu at 12000 ft.

Day 13: Sandakhphu
around Sandakhphu. Here we will look for Spotted Nutcracker, Dark-breasted, Beautiful, Pink-browed and Dark-rumped Rosefinch.

Day 14: Sandakhphu
We trek down to spend the day birding on the route. The overnight in fully serviced tents.


Day 15: Sandakhphu- Gairibans
We spend the day birding at Gairibans looking for Fire-tailed Myzornis, Red-headed Bullfinch or the Yellow-browed Tit. The overnight fully serviced tents.

Day 16: Gairibans - Tonglu - Megma
We spend the day at Tonglu and Megma and look for Little Bunting etc.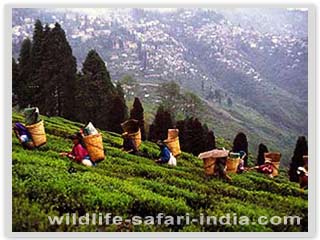 Tea Plantations, Darjeeling
Day 17: Tonglu- Darjeeling
We drive from Tonglu to Darjeeling.

Day 18: Darjeeling - Bagdogra - New Delhi or Kolkata
The morning will be spend birding in Darjeeling town and then we head back for Bagdogra for New Delhi or Kolkata where you will be transferred to International Airport or to the City Centre.
You may also like to see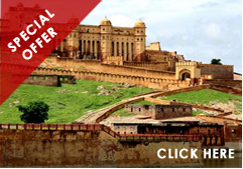 Something enchaning lies in wait for you
Click Here