Happy Travellers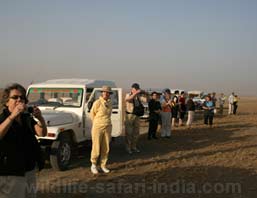 First of all I would like to thank you very much for two extraordinary tours and for all the hard work you and your staff put into them. As you joined the students again in the end of their tour I will not give a summary of this ,

Jesper
T/l Big Counrt & Student Study Tour
Welcome to Wildlife safari India
India's great geographical diversity makes it a virtual haven for wildlife and adventure.You can see a large variety of flora and fauna across its plains, deserts, mountains, rivers, valleys, tropical rainforests, coastal mangroves, Himalayan foothills and the snow-clad regions of the Upper North.
While it's the Indian Tiger that has basked in international glory (thanks to Jim Corbett and Rudyard Kipling), India is home to many species. Some -like the Lions of Gir, the rhinos of Kaziranga, the Wild Ass of Rann of Kutch or the Malabar Whistling Thrush - are endemic to one region, while most of the other animals can be found all over India's length and breadth. With about 89 national parks, 489 wildlife sanctuaries, and 16 forest types, 19 Ramsar Sites and 13
Eco Tourism Adventure

You stay in local village homes situated in remote Himalayan wilderness close to protected areas and nature reserves. Your hosts are the local inhabitants, with their unobtrusive gracious hospitality

More Info

Tailor Made - adventure-designed around you

Rajasthan is one of the most popular tourist destination in India, for tourists. Stay in Royal Heitage Palaces. Rajasthan is one of the most popular tourist

More Info

India Birding

Located a mere stone's throw from the entrance of the park, Birder's Inn is a quiet, peaceful haven for the keen birdwatcher. The home run lodge has ten spacious well-furnished rooms that

More Info

Special Tours
Client's photo Gallery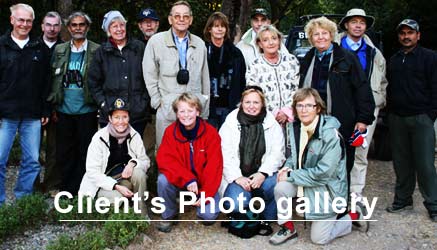 Meet Our Team
Wildlife Trip Report
Our team leaders are from fields as varied as photography to conservation and are qualified experts in their own field be it hiking, birding, angling, photography, botany, zoology, tourism, architecture, herpetology and bio-diversity conservation. Delivering precise information backed by equally precise execution of the tours consistently for our clients from all over the world is evident from the fact that our clients and our associates have repeatedly placed their trust & faith with us time and again. We are out and out a people driven organization where every individual's professional expertise holds ultimate importance.
We first visited Ranthambhore National Park to go in search of Panthera Tigris Tigris. We went beginning of Jun to mid June to both parks before both parks closed ............
More Info
Click Wildlife Videos
Indian Wildlife Safari & Nature Expenditions...

All our trips can be customised as per your perferences
Wildlife Virtual Tour